Insights > Blog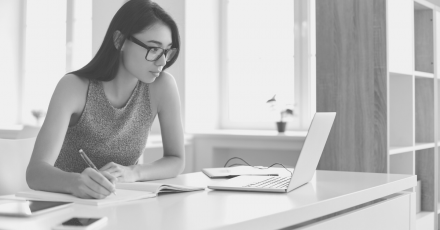 Get the most from interactive online courses & e-learning
BY CLAIRE LOOBY | AUGUST 2021
If you're making L&D, personal development or training plans for the rest of the year, you'll be considering online courses for yourself or your team.
Especially if you're working remotely, it can be difficult to change your mental gear from daily work tasks to immersing yourself entirely in the learning experience, so we've created some simple notes for you to use as a guide to getting the best out of the time you dedicate to learning remotely.
Online or live & interactive - what's the difference?
Before we go any further it is important to understand the distinction between how courses can be delivered. Purely online courses can be pre-recorded and watched at the learners' pace, with no interaction with tutors. Live, interactive training, such as we provide at Irish Times Training, is delivered on platforms such as Zoom, Webex or Microsoft Teams, and operates similarly to in-person sessions, with full interaction of tutors and learners.
These days you're likely to be learning while in your 'work' space. For some people, they're learning 'on the run', juggling work and family commitments. Irish Times Training tutors are very aware of these considerations. While teaching live, interactive courses, our tutors take care to give learners the space to ask relevant questions and tease out the information they need. This makes the course content even more valuable for everyone as we can learn a lot from the questions that others on the course ask.
Your feedback makes all the difference.
Over the past few months our team has been looking at how learners can make the most of the training sessions they attend, and we have identified some simple pointers to help you. Feedback from our course participants has been central to our learnings, so don't underestimate the value of the post-course evaluation you're asked to complete. These feedback surveys are your opportunity to have your say, so be sure to use them.
Getting the most from your training sessions.
Live, interactive discussions are facilitated by the tutor who ensures that the best use is made of the time available. Very often these discussions can be valuable learning opportunities to us – we can learn a lot from a fellow learner's experiences.
1. Set out some learning objectives for yourself.
You might be attending a course which is sponsored by your employer, but remember that your personal reasons for up-skilling are as important at those of the business you work in.
2. De-clutter your work/study space.
Your work space is also your learning space, so make sure that it's somewhere you can sit comfortably for a couple of hours at a time. Ideally, set yourself up away from as many distractions as possible. We know that's sometimes easier said than done.
3. Make sure you have reliable Internet access.
There's nothing worse than your wi-fi falling off in the middle of a training session, especially if you're just getting to grips with a topic you've struggled with. You might need to become a bit more tech-savvy than previously, but it's worth the effort. Getting to grips with Dropbox and cloud storage for documents will save a lot of time and hassle.
This step can also help you to improve your experience of remote meetings.
4. Discussions can still be lively online.
Live, interactive sessions are very similar to in-person training sessions. You will need to be aware of delays in asking/answering questions, and tutors set out some ground rules at the start of a course. These delays can cause some frustration, so some patience is needed. Bear this in mind especially when your group is discussing a topic or issue. If or when you disagree with others, remember to be respectful – their time is as valuable as your own, so be conscious that everyone wants to get the best out of the training session.
5. Ask for help when you need it.
You might think that this goes without saying, but it can be daunting for some people to ask questions when they're in a group of people they've just met. All Irish Times Training tutors are experienced at facilitating questions and discussions, and they will make sure that time is given to these in training sessions. Raise a hand or wave on screen or use the chat box function. Get involved! You can be sure that you're not the only one who has a particular question, and others in the group will learn even more from your respectful participation.
You can check out our live, interactive courses for the Autumn season here.
And if you have any queries at all email us at courses@irishtimes.com. Our team will be delighted to talk to you.