Insights > Blog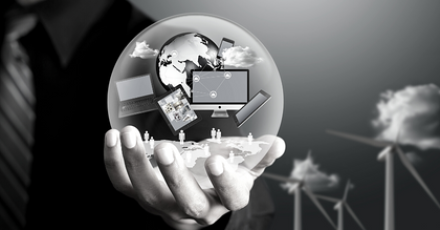 What's on the agenda for 2022? Business trends to watch
PUBLISHED 21 JANUARY 2022
Similar to New Year's resolutions, predictions for the year ahead can often be pretty unreliable indicators of actual events. So we've set aside the crystal ball and are bringing you a taster of the trends and buzzwords we've been reading about from reliable sources. As footballer Paul Gascoigne is quoted as saying, "I never predict anything, and I never will."
BUZZWORDS FOR THE YEAR AHEAD
Cryptocurrency, NFT's (non-fungible tokens) and Cybersecurity will continue to challenge - and possibly perplex - many of us. The prospect of loosening public health restrictions is a positive one, but it will present challenges in how we work with and manage hybrid-working teams or dispersed teams. Other, perhaps slightly more tangible, concepts can be more clearly defined...
1: The Metaverse is out there. For those catching up on the lingo, "metaverse", according to the Financial Times, is a "catch-all term for the theory that people will spend ever greater proportions of their lives in ever more immersive virtual worlds." To that end, investors are now gearing up for a veritable gold-rush in hardware development, including virtual reality headsets and wearables. Watch this space - pun intended.
2: Self-service options appeal to customers. A 2021 study by Forbes Magazine found that 41% of American consumers who need help now turn to a digital self-service solution over traditional phone support. Forward-thinking companies who provide easier, more intuitive digital solutions could reap the benefits and broaden their customer base.
3: It really is all about Sustainability. From technology to transport, and from buildings to manufacturing, doing the right thing right now will continue to be a focus of planning as we continue into the year. There are reasons to be hopeful as more businesses use the tools that are available to them, including improved energy efficiency in buildings, rolling out electric vehicles for public transport and empowering communities to halt deforestation across the globe.
Our own recently launched Sustainability for Business programme, starting on April 7th, will support and guide business leaders in creating an effective sustainability plan for their organisation, based on the 21st Century model.
BUSINESS TRENDS WE'RE READING ABOUT
Cliff Taylor, Managing Editor of The Irish Times set out some key Irish economic issues to watch out for in 2022. The six that caught our eye are:
1: Coronavirus & easing restrictions. How public policy adapts to the longer-term affects of Covid-19 will be key to the impact on Irish businesses.
2: Tax & spending. "There is plenty of leeway and contingency money in the budget for 2022, but the trends still bear watching as they will have a vital impact on future years."
3: The Green agenda. Climate change targets will be "set in stone, sector by sector, under binding legislation."
4: Jobs. As PUP supports are wound down some sectors will experience fall-out and the 'dual economy' will remain in evidence.
5: Brexit. There's always Brexit.... and as talks on the Northern Ireland protocol continue the outcome is anything but predictable at this stage.
6: Expecting the unexpected. Energy prices, the new German Chancellor's settling-in period and impending French presidential election mean that international affairs could still throw curveballs at Ireland.
RESEARCH ON GLOBAL CONSUMER TRENDS
On the international stage, Mintel has compiled a comprehensive 2022 Global Consumer Trends report, stating that "Brands are recognising the importance of uplifting people during times of uncertainty and distress, and the role they can play in this process. In the coming months, brands will highlight good news and emphasise positivity in communications to give consumers a break from the doom and gloom."
Not all brands will necessarily be associated with 'uplifting' services. However, businesses can look at their core activity and assess how they can address some of their customers' pain points, and delivering services that customers really value. Mintel identified how innovation in business tech is already impacting commercial activity. "Financial uncertainty is leading to innovation in banking, with apps providing simpler and more accessible ways for consumers to control their money... To further gain power over their lives, smart devices and appliances are giving consumers a greater sense of control as they can check up on their homes, pets or even family members."
KEY OPPORTUNITIES FOR BUSINESSES
Encourage consumer control: Brands should understand their supply chains, use clear and simple messaging, and enable customers to control their digital footprint and customise products.
Promote consumer enjoyment: Brands should highlight positivity in their messaging to uplift consumers' moods, adding gamified elements to campaigns to enhance customer interactions both online and in-store. 46% of UK consumers who plan to go on holiday in the next three years say that, once the COVID-19 pandemic is over, they plan to spend more on holidays than before the pandemic.
Demonstrate your business's ethical behaviour: Brands can get expert guidance, including at board level, to achieve ethical standards, helping them to become more transparent about the 'true cost' of products use metrics to show where their business has achieved a positive impact. Research showed that 61% of UK consumers agree that buying from ethical brands is a good way of helping to improve the world we live in.
Management consultant, educator, and author Peter Drucker is quoted as saying, "The best way to predict the future is to create it." Perhaps the best policy is to allow ourselves the leeway to create the future by taking our brave steps with fully informed, cautious positivity - hindsight is a great thing.