Insights > News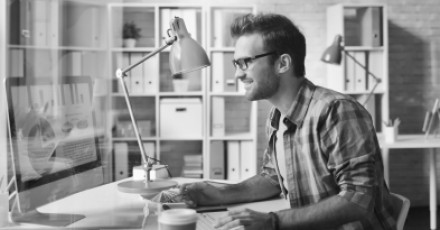 The Right Training at The Right Time
Irish Times Training responds fast to changing needs - the world of work changes and we change with it. Our priority has been to consistently provide valuable skills to learners, whether they are learning online or in the classroom. By working with our industry-expert trainers, we have ensured that the learning experience online has been developed to be completely interactive and of the highest standard.
Getting the Trainers' Side of the Story
Recently, we spoke with two of our trainers to find out their side of the training story.
Within eight days of the first lock-down, trainer Joe Houghton delivered its first webinar on the do's and don'ts of working online. He delivers a range of courses online now, from Minute Taking and Report Writing to advanced Project Management and managing remote teams.
Teaching is not the same as training. "Training is skills based, teaching is imparting knowledge," explains Houghton. "While knowledge is nice, when it translates into more effective action it is better."
Experienced Practitioners
Joe's work often enhances skills that people already have. "Because we are all experienced practitioners at Irish Times Training, we can show people the best way to do things, for example, help someone tasked with writing a report who has never been shown how to write a report. We provide the templates, the best practice, to help them."
He believes soft skills are key to organisational - and individual - success.
"Empathy and resilience is founded on relationships. Anybody can learn hard skills but soft skills require you to think about how you relate to people and how you can do it better, and that changes all the time. Right now, for example, we are all having to communicate through Zoom, but the skills you have in one area of communications don't necessarily translate to another."
Effective training is hugely fulfilling, says Houghton. "What I love is that people leave feeling more empowered and confident. That is what training should do, it should make you feel better about the things you have to do, which is why it also accelerates your career trajectory."
Stepping Into the Learners' Shoes
Colleague Mark Hayes specialises in sales and leadership training, including Communicating with Confidence programmes and Springboard+ courses for start-up entrepreneurs.
"Too often training is 'off the shelf', or prescribed. What we do is step into someone's shoes to see where they are at," says Hayes.
He uses SPIN, an acronym for effective training which looks first at the individual or organisation's current Situation, identifies the Problem they are facing, its Implications and the Need, or payoff, they require from effective training.
"It's about undertaking a training needs analysis to find out what they need and what the focus of their training should be," says Hayes. "What Irish Times Training provides is 'just in time' training – the training you need, when you need it."
So why not take the opportunity to develop your existing skills, or build new ones, and search here for the course that's right for you.