Insights > Blog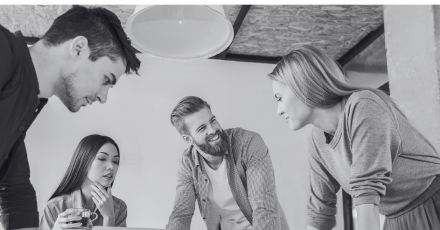 Building a thriving workforce through Soft Skills
BY CLAIRE LOOBY | SEPTEMBER 2021
By now, we are all acutely aware of the rapid pace of tech innovation across a variety of businesses. Along with developments towards a more blended approach to working, tech developments highlight the need for us all to update skills as a constant throughout our career. In an employment landscape which often appears to prioritise technical and digital skills, what part do soft skills play, especially in the area of team and people management?
There's only one way to find out what the market is thinking, and that's to ask straight questions. For this reason we at Irish Times Training recently undertook some research to find out more about the skills gaps and training priorities across a range of industries.
Our questions were aimed at HR and L&D managers, with a particular emphasis on the skill gaps they are currently experiencing, and how these will feed into their business strategy for the next three years.
Unsurprisingly, many respondents cited the need to manage people remotely and ensure continued productivity for the business. On-boarding new team members, facilitating development and up-skilling managers were key objectives.
In assessing the general theme of responses we were led to focus on the continued requirement for soft skills training, and especially the development of leaders within businesses.
As our research was not confined to Ireland, our next question was whether this uniquely represents Irish businesses. The answer is 'no'. LinkedIn's 2018 research found that soft skills training was the number one priority for L&D leaders across a variety of industries. A stunning 94% of employees surveys said that they are more likely to stay at a company longer if there are opportunities for professional development.
That research is every bit as relevant today as it was in 2018. It also found that L&D departments are often more focused on the immediate skills needed, rather than the skills executives themselves said they would like. There is a great lesson to be learned from listening to your employees - rather than training for today's demands, executives said they wanted more focus on identifying trending skills that will create gaps down the road. With continued developments in AI, many businesses will be aware that today's hard skills could be automated tomorrow, emphasising even more the need for effective soft skills.
Proving that great minds think alike, Grant Thornton recently conducted a workplace survey with an organisation which found that "the majority of people felt hugely disconnected, especially from the wider organisation outside of their teams. This same majority also reported feelings of isolation being one of the biggest challenges they were facing whilst working from home." Researchers found that, since the beginning of the Covid-19 pandemic, there has been a 're-humanisation' of organisations - something that has probable been most clearly illustrated in the peeling away of decision-makers' previous resistance to a blended working model.
Besides supporting existing team members, business leaders have the potential to influence and support junior members of staff as they settle in and begin contributing to the business. This should not be forgotten in the whirl of business-as-usual, so developing a strong soft skills palette among managers and leaders is key for an effective, inter-connected business.
And, as it is in the world of work, so it is in the world of executive education...
Professional development programmes need to be in tune with learners' needs, especially in the variety of areas that relate to people management. They need to focus on the right blend of skills such as effective communication, assertiveness, conflict management and people management in order to support a robust range of needs among key employees, especially as remote working becomes more prevalent.
The main lesson to be taken away from this discussion is that it's about time that an importance of soft skills for a successful business was given the same weight as hard skills. Striving for and finding a balance between these business elements can only add value to everyone's efforts.
For details on how we can help you and your team to grow your skills in any of the areas mentioned in this piece visit our Course Finder, or contact us today at courses@irishtimes.com