Insights > News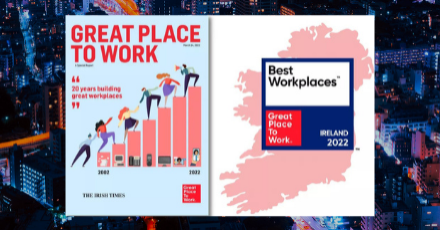 Great Place to Work 2022 winners announced
PUBLISHED 31 MARCH 2022
Celebrating Great Place to Work 2022
Small, medium & large workplaces are celebrated
The 2022 Great Place to Work lists were announced on Match 24th and they reveal a range of businesses which are making strides in supporting and celebrating their workforce. That is no small achievement in these challenging times for business.
Using the Trust Index© Employee Experience Survey qualitative and quantitative data is gathered on employees' perception of their work experience. Employees are given 73 statements to respond to, along with two open-ended statements and, when these date are analysed, the organisation has a benchmark to find out what best performance being achieved. As a result, the survey provides essential information to help businesses to understand their workplace environment.
Announcing the 2022 list of winners, CEO Cathal Divilly said "Great workplaces are full of great people who "make the best" of what they are facing into... they are committed to improving their approach to people and building the trust levels between employees and leaders." Congratulations to all the entrants and winners. Let's all do what we can to make our own workplaces as great as they can be.
Best Small Workplace: Mitchell McDermott The construction consultancy win in their first year on the Great Place to Work list.
Best Medium Workplace: Hilton. The global hospitality's 2nd year on the list.
Best Large Workplace: Cisco Ireland. The tech company has appeared on the list for nine years.
You can download the 2022 magazine here and read the full coverage of the awards.
To be qualified for Ireland's Best Workplaces recognition, organisations must be Great Place to Work-Certified; the closing date is April 27th. To discover how to Get Certified, visit www.greatplacetowork.ie