Insights > News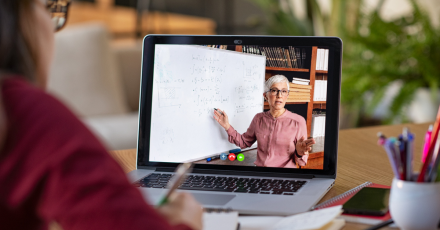 Introducing our 2021 Courses & Programmes
The right training, at the right time, in the right way
Skills are the key to organisational resilience and effective training is the key to skills. Never has that been so clearly demonstrated than in 2020, with the advent of the Covid-19 pandemic. At Irish Times Training demand has surged for training on everything from negotiating deals via Zoom calls to managing remote teams. As a result our clients were able to make the unprecedented transformation online with remarkable ease.
That goes for Irish Times Training too.
Launching the 2021 courses and programmes, managing director Imelda Rey explained the company's strategy. "Irish Times Training is all about live, interactive training. Prior to the pandemic we had provided a great deal of face-to-face, classroom-based training, but we transformed into a live virtual training organisation overnight."
"Investing in training has always been important but as we move into more difficult times ahead, and potentially a recession, the organisations that will get the most out of training are those that take a partnership approach."
For 2021 we will be delivering a full range of courses suitable for individuals looking for professional development as well as for teams looking to build organisational skills, all live and interactive online. That includes courses aimed at senior managers, such as leading change and business transformation, digital transformation for leaders, and a mini-MBA in conjunction with Ulster University. As digital technology takes over increasing amounts of our working lives, it is these soft skills that will increasingly become a determinant of organisational success, she points out. In times of uncertainty and recession, an ability to reskill rapidly is critical too.
"Numerous reports have shown how investment in training positively impacts the bottom line, leading to higher profit margins and better employee retention and engagement," Imelda says. "There is a realisation now from management that certain soft skills which were always important are now crucial in a remote or hybrid workplace environment. These include skills such as the ability to listen, to empathise and to communicate effectively."
Richard Branson is often quoted as saying employees come first because if you take care of your employees, they will take care of your clients. Investment in training is the best way any organisation can take care of its employees, and in so doing, future proof itself, she points out. "The dream organisation is one that is full of employees who care. Organisations that invest in employees have more business success because they have more employee engagement."
Training is an investment, not a cost
As organisations made the transition to remote working, demand for soft skills has grown. Demand has increased for programmes that support employee wellbeing and resilience too, as well as IT skills. "There are serious gaps emerging in terms of digital skills, from basic computer literacy to more advanced areas such as digital marketing and data analytics," says Rey.
If you are getting management training from us, it's from someone who is or has been a senior leader
"Our trainers don't just talk the talk, they walk it. All are, or have been, practitioners in their field. If you're getting digital skills training from us, you are being trained by a digital marketing practitioner. If you are getting management training, it's from someone who is or has been a senior leader," says Rey. From personal effectiveness and communications, to leadership and management, strategy and organisational development, HR and learning development, as well as customer success, Irish Times Training can tailor programmes to suit.
The outlook may be hard but the future is soft
Research from Deloitte indicates that transferable soft skills such as communication, teamwork and problem solving are as important to business success as technical skills and predicts that soft skill intensive occupations will account for two-thirds of all jobs by 2030. Whether it is managing people in this new environment, developing workplace wellness and resilience or getting to grips with digital marketing, "training is increasingly important to an organisation's ability to survive and thrive," she says.
You can read more about our 2021 courses, including insights from some of our trainers here.
To find a course that's right for you click here.